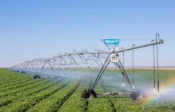 CENTRE PIVOTS
Center Pivot Irrigation is a system of crop irrigation in which equipment rotates around the pivot and crops are watered with sprinklers. The coverage area of irrigation is tailored towards customer's needs but the minimum coverage is 50 Ha.

TARGET CROPS
Maize, Rice Sugarcane and Vegetables

DESCRIPTION
Materials used to build systems are very robust to resist toppling and applicable for all topography of land. A life span for up to 30 years.